About Teri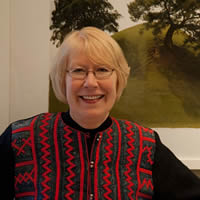 Teri Sandison began her art training at the University of California, Berkeley with Peter Voulkos in ceramics, and continued at the University of California, Los Angeles where she graduated with a Fine Arts degree with an emphasis in painting and drawing. Sandison began to explore foreign lands with her camera as a freshman in college. She was invited to visit historic San Miguel de Allende in Mexico. After spending her junior year abroad in Europe studying art history, Sandison settled on photography as her art medium of choice, strongly influenced by the idea of being able to travel through a career in photography. Her lifelong passion for Asian aesthetics was fostered by Japanese sculptor Morio Shinoda, at UCLA. She then continued her art training at Art Center College of Design in Pasadena, taking advanced training in photography. She later served on the faculty at ACCD for 3 years in the 1980's.
During the 1980s and 1990s, Sandison traveled extensively throughout Asia while researching the culinary world with her author and chef husband, Hugh Carpenter, for their well-known series of cookbooks. In 1990, the couple moved to the Napa Valley where Sandison opened a food and wine advertising photography studio. She photographed more than 60 cookbooks, earned the Who's Who of Cooking Platinum Plate award as Best Food Photographer in 1989, the IACP nomination for Best Food Photography in 1990, and a James Beard Award nomination in 1995.
While the culinary arts became Sandison's main career focus, it was the ancient religions, temple architecture and sacred landscapes that ultimately became her true photographic passion. "These sites hold a strong magnetic attraction for me and I am captivated by how sacred architecture weathers with time and the environment," says Sandison.
Although her love for Asian travel sparked nearly 30 years ago, it wasn't until 2011 when Sandison was ready to start exhibiting this photography of the ancient cultures. Teri's first exhibit of the Korean "Sacred Sites and Ancient Wisdom" images was held at the Lee & Lee Gallery, in Los Angeles, in conjunction with Korean ceramic artist Lee Inchin. The Mondavi show is her first solo exhibit featuring this body of work, and features many diptych (2-up) and triptych (3-up) formats. Sandison believes these formats capture the inevitability of imminent change through time, which is inherent in nature and all existence.
One of Sandison's favorite works is "Forest at Sacred Mt. Emei Triptych", in Sichuan, China. She captured the images at first morning light, during a rain shower with heavy mist in the air. "As I turned down the path, I was mesmerized by the surrounding bamboo forest," said Sandison. "I could feel the atmosphere of religious pilgrimage, and the sacred spirit which the forest was holding."
Teri and her husband live in Napa Valley, California. Teri is continuing her photographic journeys, now in the 15th year, to capture the rhythms of nature and the interactions of human forces with nature at sacred sites around the world.